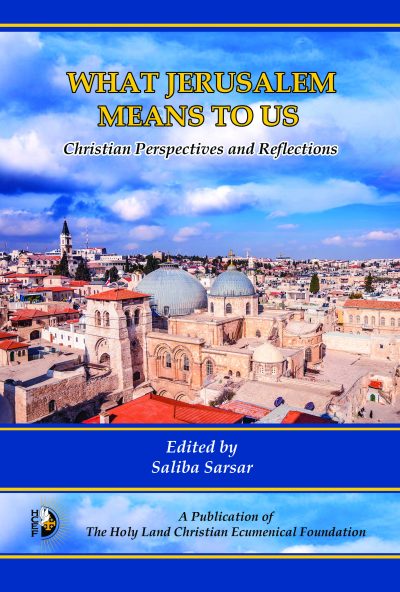 What Jerusalem Means to Us: Christian Perspectives and Reflections edited by Saliba Sarsar
WHAT JERUSALEM MEANS TO US is a unique book. In 23 essays, Palestinian Christians and other Christians of various backgrounds share their personal perspectives and reflections on Jerusalem as they draw on their intimate knowledge of and or their experiences in the Holy City.
Jerusalem is special as it is both holy and hotly contested at the same time. Jews, Christians, and Muslims – living there and elsewhere – lay claim to it based on divine inspiration or prior human connection, association, or possession.
It is through God's revelation to humanity that it has achieved centrality, universality, and prominence. In addition to being a holy city, it is the city of humans, a living abode – imperfect, coveted, and conflicted.
Today, Jerusalem is where Palestinians (Christian and Muslim), Israelis (Jewish, Muslim, and Christian), and others make presence and work amid constant uncertainty and, at times, in less than peaceful conditions. Each community experiences and highlights different facets of its spiritual, religious, historical, cultural, national, and political life. The way these are addressed will ultimately impact Jerusalem's future.
Palestinian Christians, like many other Christians, consider Jerusalem the holiest city and the center of their faith, as it marks the location of Jesus' crucifixion and resurrection. H.B. Msgr. Michel Sabbah, Latin Patriarch Emeritus of Jerusalem, along with the Patriarchs and Heads of the Churches in Jerusalem, views Jerusalem as "the heart and spiritual homeland of every Christian living to this day whether in Jerusalem, near it, or anywhere in the world. It is where everything began, where God sent His Eternal Word, Jesus Christ Messiah, and Savior of all."
As will become evident, the contributors to WHAT JERUSALEM MEANS TO US embody the conviction that the well-being of the city and all its inhabitants depend on the well-being of the other, and that all must work together, and in parallel, to build a future in which the city and all its inhabitants can thrive. Only when we allow the city to cherish its daughters and sons can it fulfill its mission. If caring, compassion, human security, peace, and prosperity do not materialize in Jerusalem – the vibrant heart of the Holy Land – where will they? If not now, when?
Year: 2018
Paperback