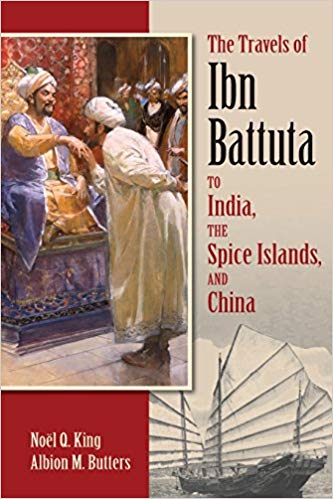 The Travels of Ibn Battuta: To India, the Spice Islands, and China translated by Noel King and edited by Albion Butters
Ibn Baṭṭūṭa (1304 - 1369) was the best-known Arab traveler in world history. Over a period of thirty years, he visited most of the Islamic world and many non-Muslim lands. Following his travels, he dictated a report he called "A Gift to Those Who Contemplate the Wonders of Cities and the Marvels of Traveling," known simply in Arabic as the Riḥla.

This dramatic document provides a firsthand account of the nascent globalization brought by the spread of Islam and the relationship between the Western world and India and China in the 14th century. As an Islamic legal scholar, Ibn Baṭṭūṭa served at high levels of government within the vibrant Muslim network of India and China. In the Riḥla, he shares insights into the complex power dynamics of the time and provides commentary on the religious miracles he encountered. The result is an entertaining narrative with a wealth of anecdotes, often humorous or shocking, and in many cases touchingly human.
Year: 2018
Paperback