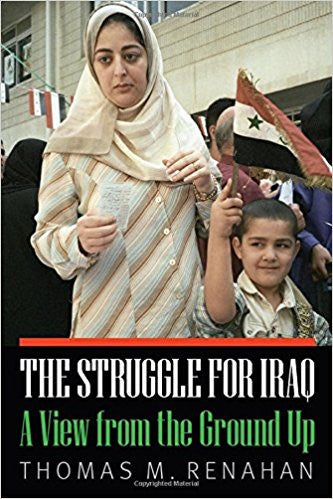 The Struggle for Iraq: A View from the Ground Up by Thomas M. Renahan
The Struggle for Iraq is a vivid personal account of the Iraqi people's fight for democracy and justice by an American political scientist. Thomas M. Renahan arrived in southern Iraq just three days before the capture of Saddam Hussein in 2003. Later he worked in Baghdad through the dark days of the country's sectarian violence and then in Iraqi Kurdistan. One of the few Americans to serve in all three major regions of Iraq, he spearheaded projects to develop democratic institutions, promote democracy and elections, and fight corruption.

With inside accounts of two USAID projects and of a Kurdish government ministry, this engrossing and cautionary story highlights efforts to turn Baathist Iraq into a democratic country. Renahan examines the challenges faced by the Iraqi people and international development staff during this turbulent time, revealing both their successes and frustrations. Drawing on his on-the-ground civilian perspective, Renahan recounts how expatriate staff handled the hardships and dangers as well as the elaborate security required to protect them, how Iraqi staff coped with the personal security risks of working for Coalition organizations, and the street-level mayhem and violence, including the assassinations of close Iraqi friends.

Although Iraq remains in crisis, it has largely defeated the ISIS terrorists who seized much of the country in 2014. Renahan emphasizes, however, that reconciliation is still the end game in Iraq. In the concluding chapters he explains how the United States can support this process and help resolve the complex problems between the Iraqi government and the independence-minded Kurds, offering hope for the future.
Year: 2017
Hardcover