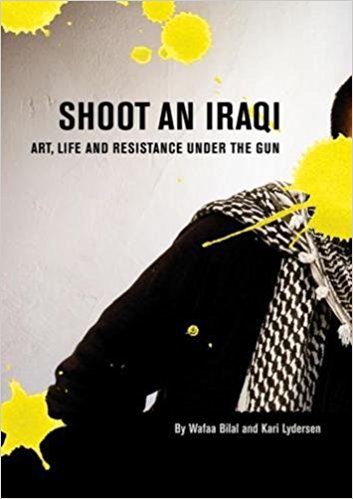 Shoot an Iraqi: Art, Life and Resistance Under the Gun by Wafaa Bilal and Kari Lydersen
Wafaa Bilal's childhood in Iraq was defined by the horrific rule of Saddam Hussein, two wars, a bloody uprising, and time spent interned in chaotic refugee camps in Kuwait and Saudi Arabia. Bilal eventually made it to the United States to become a professor and a successful artist, but when his brother was killed by an unmanned U.S. Predator drone, he decided to use his art to confront those in the comfort zone with the realities of life in a conflict zone.
His response was "Domestic Tension," an unsettling interactive performance piece: for one month, Bilal lived alone in a prison cell-sized room in the line of fire of a remote-controlled paintball gun and a camera that connected him to Internet viewers around the world. Visitors to the gallery and a virtual audience that grew by the thousands could shoot at him twenty-four hours a day. The project received overwhelming worldwide attention and spawned provocative online debates; ultimately, Bilal was named Chicago Tribune's Artist of the Year.
Structured in two parallel narratives, the story of Bilal's life journey and his "Domestic Tension" experience, Shoot an Iraqi is for anyone who seeks insight into the current conflict in Iraq and for those fascinated by interactive art technologies and the ever-expanding world of online gaming.
"Once I picked up this book, i could not put it down. There is something so urgent and compelling about Bilal's story, as though he is speaking to our time. His story is not just for those interested in the arts; it is a human story of the horror, frustration, and tragedies of war." —Mary Flanagan, artist and author of re:skin
"This is an unsettling and gripping book. It poignantly recounts a dark and imaginative experiment inspired by an excruciating and ghastly reality. Its unsettling effects couldn't be more welcome: we desperately need to be shocked out of our collective zombification, and this book does that by leading us through a wild labyrinth at once aesthetic, political, and existential. Potent stuff." —Danny Postel, author of Reading "Legitimation Crisis" in Tehran
"Who in their right mind would allow the internet to shoot at them? Shoot an Iraqi: Art, Life, and the Resistance Under the Gun tells the story of Wafaa Bilal. When his brother was killed by an unmanned Military device during the Iraq war, Bilal took it locked himself in a room, a camera showing him to the world with a remote controlled paintball gun connected to the internet, in the name of art and political statement. Bilal explains himself quite well, making Shoot an Iraqi fascinating reading." —Midwest Book Review
"Weaving together accounts of Iraq and America, art and violence, performance and reality, past and present, this gripping account all but shakes the reader by the lapels." —Publishers Weekly
Iraqi-born artist Wafaa Bilal has exhibited his art worldwide, and traveled and lectured extensively to inform audiences of the situation of the Iraqi people, and the importance of peaceful conflict resolution. Bilal's 2007 dynamic installation "Domestic Tension" gained global recognition, being named Artist of the Year by the Chicago Tribune. Bilal has held exhibitions in Baghdad, the Netherlands, Thailand and Croatia; as well as at the Museum of Contemporary Photography in Chicago, the Milwaukee Art Museum and various other US galleries. His residencies have included Montalvo Arts Center in Saratoga, California; Catwalk in New New York; and Rensselaer Polytechnic Institute.
Year: 2008
Paperback