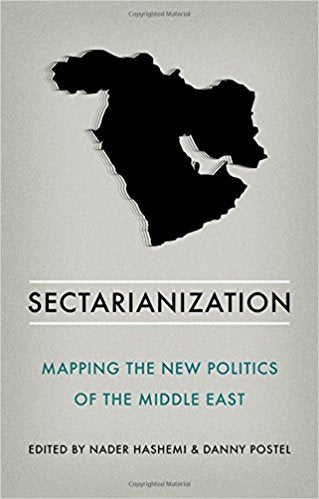 Sectarianization: Mapping the New Politics of the Middle East edited by Nader Hashemi and Danny Postel
As the Middle East descends ever deeper into violence and chaos, 'sectarianism' has become a catch-all explanation for the region's troubles. The turmoil is attributed to 'ancient sectarian differences', putatively primordial forces that make violent conflict intractable. In media and policy discussions, sectarianism has come to possess trans-historical causal power. 

This book trenchantly challenges the lazy use of 'sectarianism' as a magic-bullet explanation for the region's ills, focusing on how various conflicts in the Middle East have morphed from non-sectarian (or cross-sectarian) and nonviolent movements into sectarian wars. Through multiple case studies -- including Syria, Iraq, Lebanon, Saudi Arabia, Bahrain, Yemen and Kuwait -- this book maps the dynamics of sectarianisation, exploring not only how but also why it has taken hold. The contributors examine the constellation of forces -- from those within societies to external factors such as the Saudi-Iran rivalry -- that drive the sectarianisation process and explore how the region's politics can be de-sectarianised. 

Featuring leading scholars -- and including historians, anthropologists, political scientists and international relations theorists -- this book will redefine the terms of debate on one of the most critical issues in international affairs today.
Year: 2018
Paperback