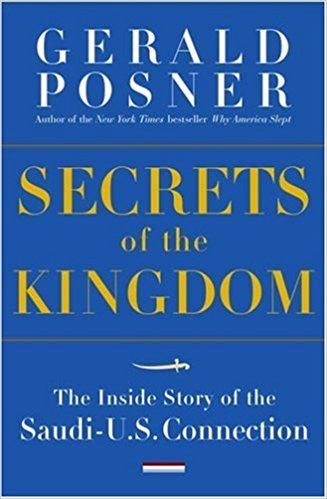 Secrets of the Kingdom: The Inside Story of the Secret Saudi-U.S. Connection by Gerald L. Posner
In its final report, the 9/11 Commission famously called the Kingdom of Saudi Arabia "a problematic ally in combating Islamic extremism." To Gerald Posner, the bestselling author of Why America Slept: The Failure to Prevent 9/11, this is a gross understatement. In his new book, Secrets of the Kingdom, Posner exposes the undeniable truth about U.S.-Saudi relations–and how the Saudis' influence on American business and politics poses a grave threat to our security.

The result of an intensive two-year investigation, Secrets of the Kingdom penetrates the innermost layers of the shielded House of Saud and presents indisputable evidence of complicity and deceit at the highest levels–evidence that the 9/11 Commission, either deliberately or negligently, failed to consider. Using bank records and other previously undisclosed information, Posner unearths many disturbing truths and shattering revelations about the ties that bind the Saudi and U.S. governments, including

• how countless failures in U.S. intelligence and law enforcement gave extraordinary preferential treatment to prominent Saudis living in the United States, including members of the bin Laden family, in the days after 9/11

• a likely close connection between a powerful member of the House of Saud and Abu Zubeydah, the highest-ranking al-Qaeda operative captured so far by the United States


• how the Saudi government has turned a blind eye to the role Saudi charities–including many controlled or supported by Kingdom officials– have played in bankrolling al-Qaeda and Islamic terror groups

• the never-before-revealed Saudi and U.S. emergency plans in the event of a national crisis in the Kingdom, plans that could affect the security of the United States and the entire Middle East

Secrets of the Kingdom is an explosive study that will have a profound impact on both U.S. policy and Americans' perception of their government and its extensive ties to a foreign power. Posner uncovers a disturbing picture of how two nations, despite their differing agendas, have become inextricably entwined.
Year: 2005