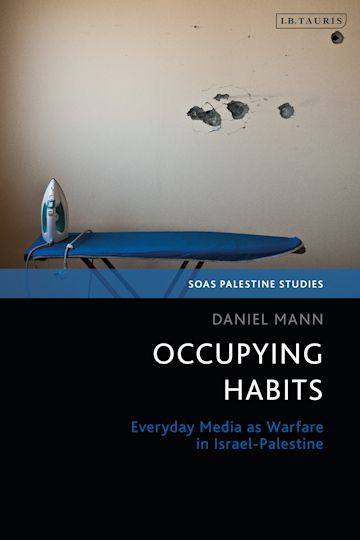 Occupying Habits: Everyday Media as Warfare in Israel-Palestine by Daniel Mann
How did the Israeli military learn to cope with the ubiquity of media technologies that routinely document their power abuses? Why did they re-appropriate these to tighten their grip on Palestinian civilians? This book explains why a high-tech nation with advanced military technologies came to rely on the everyday media habits performed by soldiers and civilians.

Daniel Mann argues that the intensification of the security regime in Palestine, and the increasingly personal use of media technologies by both soldiers and civilians, are deeply entangled. The book traces how, beginning in the 1990s, the integration of media into the lives of civilians and Israeli soldiers enabled Israel to transfer responsibilities to individual users, who in turn became legally and ethically liable for state abuses of power.

Drawing on declassified documents, found footage, and social media, Mann shows how both media and warfare have been remodelled around the figure of the defensive, isolated, and insular 'individual'. Mann suggests that the focus on representations and their close visual analysis paradoxically hinders our ability to understand media. Instead of zooming into fine details, we must step back to reveal the assemblage of images, users, and infrastructure that together serve to maintain the racial, legal and aesthetic divide between Israel and Palestine.
Daniel Mann is Lecturer and Leverhulme Early Career Fellow at the Film Studies Department at King's College London, UK. He has published various articles on visual media and is a filmmaker with awards from film festivals including the Berlin Film Festival, Rotterdam, Cinema du Reel, Centre Pompidou and the ICA in London. He received his PhD from Goldsmiths, University of London, UK.
Year: 2023
Paperback