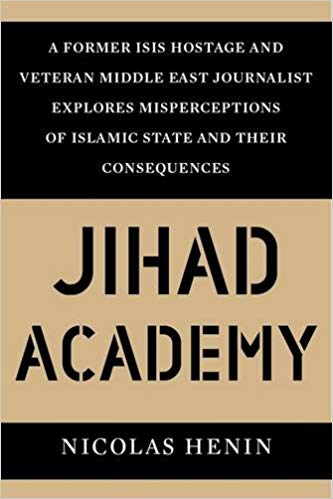 Jihad Academy: The Rise of Islamic State by Nicolas Hénin
For more than a decade, French journalist Nicolas Hénin has reported from the front lines of conflict in the Middle East, much of his time spent in Iraq and Syria. He witnessed the events leading to the rise of Islamic State, and in June 2013, he was himself captured by ISIS and spent ten months in captivity with James Foley and others who were beheaded soon after Hénin was released. Those barbarities, and the first strikes against Islamic State, prompted Hénin to present in Jihad Academywhat he knows IS to be, in contrast to the misperceptions he sees perpetuated on an ongoing basis.
Hénin sees Islamic State as a political entity, having arisen out of a sense of injustice and lack of hope, and as the natural result of the Western inability to support Syrian democracy activists. The West, however, sees IS only as a terrorist organization, ignoring its political message and goals; by doing so, we act as a recruitment agent for Islamic State and largely overlook the greatest victims of IS violence--civilians on the ground. IS will only be ultimately defeated, he argues, by the people of the region, just as others have overthrown groups that practiced political violence on their people.
Jihad Academy is a fresh and powerful assessment by a writer with the perspective of a historian, the passion of a journalist long committed to the region, and the credibility of someone who has witnessed terrorism first-hand. Hénin's is an important new voice in the ongoing debate about our role in the Middle East.
Year: 2016
Paperback