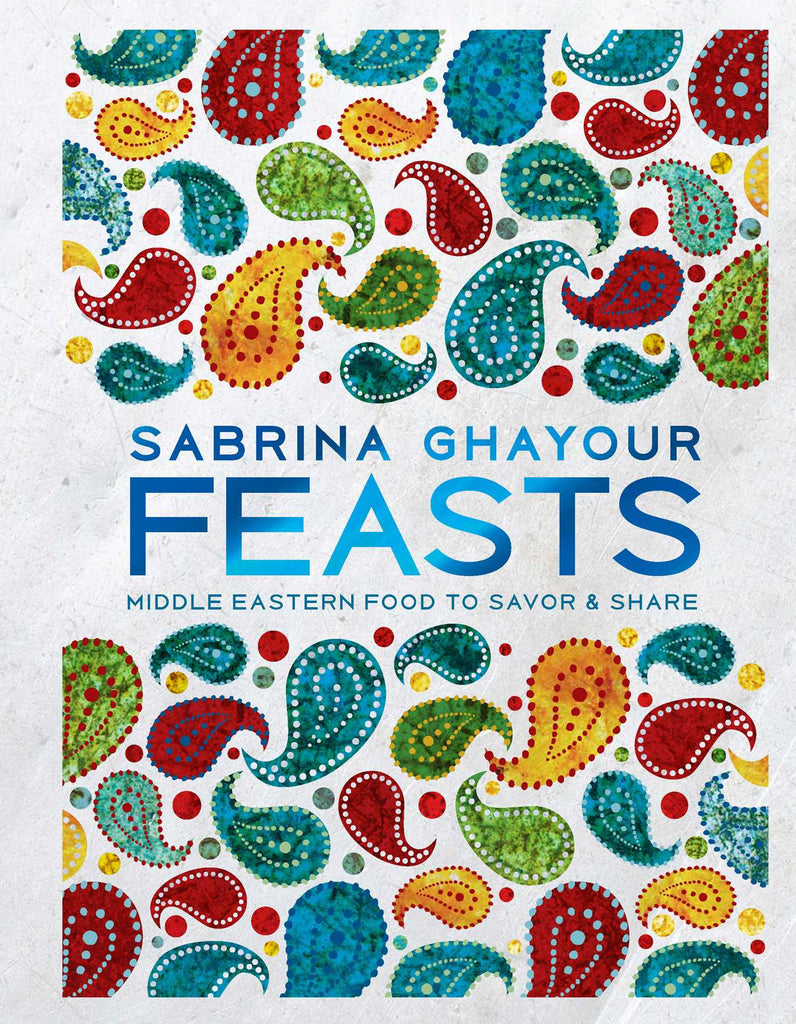 Feasts: Middle Eastern Food to Savor & Share by Sabrina Ghayour
In Feasts, the highly-anticipated follow-up to the best-selling Persiana: Recipes from the Middle East and Beyond (2014) and Sirocco: Fabulous Flavors from the East (2016), award-winning chef Sabrina Ghayour presents a delicious array of authentic Middle Eastern dishes inspired by the celebratory feasts of her childhood in Iran but tailored to how we live and cook today. This beautifully photographed book features recipes accessible to home cooks everywhere.
Feasts is a sumptuous celebration of Persian food featuring more than 90 sophisticated yet approachable recipes for breakfast and brunch, weeknights, weekends, summer meals, vegetarian dishes, festive occasions, and comfort food. The author, who teaches cooking, is an expert on Middle Eastern food, and her voice is authoritative but friendly, making the recipes very accessible even to the most inexperienced cook. Chapter intros brim with passion for her homeland's culinary delights, and her recipe methods are easy to follow. The author also provides suggestions for complete menus. From finger foods, mezze dishes, entrees, sides, desserts, and drinks, Feasts is a mouthwatering tour of Persian food for today's home cook.
Chapters and a sampling of recipes
:
Breakfast & Brunch
: Goat cheese & filo pies, Cheddar & feta frittata with peppers, herbs & pul biber, Apple, cinnamon & raisin loaf with nigella honey butter
Weekend Feasts
: Pan-fried lamb steaks preserved lemon, cilantro & garlic, Pear & thyme tart, Mint tea mojito
Quick-Fix Feasts
: Spicy halloumi salad with tomatoes & fried bread, Harissa skirt steak sandwiches, Roasted apricots with ricotta, honey & pistachio crunch
Vegetarian Feasts
: Carrot, orange, ginger & walnut dip, Roasted Portobello mushrooms with pine nuts & halloumi, Garlic, fenugreek & cumin flatbreads
Summer Feasts
: Butterflied leg of lamb with pomegranate salsa, Pomegranate, cucumber & pistachio yogurt, Peach, feta & mint salad
Lighter Feasts
: Yogurt & harissa marinated chicken, Smoked salmon with capers, olives & preserved lemons, Eggplant rolls with goat cheese, herbs & walnuts
Special Occasions
: Jumbo prawns with tomato, dill & fenugreek, Beer roasted pork shoulder with plum sauce, Saffron roast potatoes, Charred cauliflower steaks with tahini, harissa honey sauce & preserved lemons, Cherry, dark chocolate & mint parfait
Comfort Food: Black garlic, tapenade, & feta rolls, Lamb kofta roll, Harissa-infused leg of lamb with fenugreek & lime, Freekeh, tomato & chickpea pilaf
Year: 2018
Hardcover