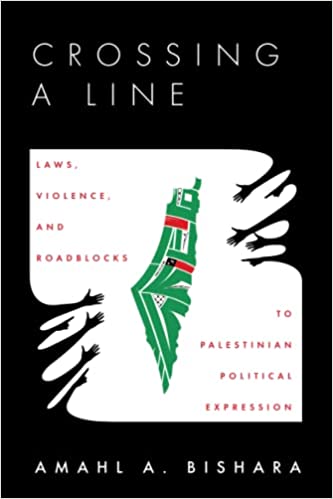 Crossing a Line: Laws, Violence, and Roadblocks to Palestinian Political Expression by Amahl Bishara
Palestinians living on different sides of the Green Line make up approximately one-fifth of Israeli citizens and about four-fifths of the population of the West Bank. In both groups, activists assert that they share a single political struggle for national liberation. Yet, obstacles inhibit their ability to speak to each other and as a collective. Geopolitical boundaries fragment Palestinians into ever smaller groups. Crossing a Line enters these distinct environments for political expression and action of Palestinians who carry Israeli citizenship and Palestinians subject to Israeli military occupation in the West Bank, and considers how Palestinians are differently impacted by dispossession, settler colonialism, and militarism.
Amahl Bishara looks to sites of political practice--journalism, historical commemorations, street demonstrations, social media, in prison, and on the road--to analyze how Palestinians create collectivities in these varied circumstances. She draws on firsthand research, personal interviews, and public media to examine how people shape and reshape meanings in circumstances of constraint. In considering these different environments for political expression and action, Bishara illuminates how expression is always grounded in place--and how a people can struggle together for liberation even when they cannot join together in protest.
Year: 2022
Paperback