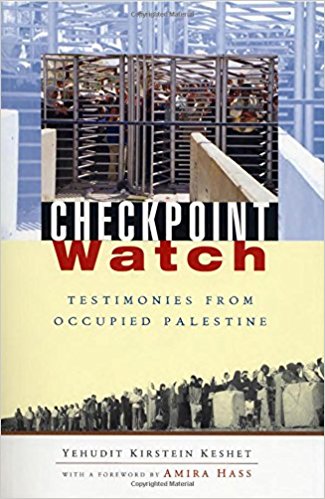 Checkpoint Watch: Testimonies from Occupied Palestine by Yehudit Kirstein Keshet
'It is impossible to guess when and how the harsher Israeli version of the Apartheid Pass System will collapse. When it does, CheckpointWatch will have had an important role in its collapse'. - Amira Hass

'This important book offers an insightful perspective on the system of Israeli military checkpoints and blockades in the West Bank, their devastating impact on the Palestinian population, and the arbitrary use of a control mechanism for reasons which often have little to do with security considerations. The first-hand accounts and observations of the Watchers - Israeli women from all walks of life - also provide an interesting insight into how different sectors of Israeli society see - or fail to see - the impact of such a system and its injustices' - Donatella Rovera, Researcher on Israel and the Occupied Territories, Amnesty International

This book is a critical exploration of Israel's curfew-closure policy in the Occupied Palestinian Territories through the eyes of CheckpointWatch, an organization of Israeli women monitoring human rights abuses. The book combines observers' daily reports from the checkpoints and along the Separation Wall, with analysis of the bureaucracy that supports the ongoing occupation. Keshet demonstrates the link between Israeli bureaucracy and the closure system as integral to a wider project of ethnic cleansing. 

As co-founder of the group, Keshet critically reviews the organisation's transformation from a feminist, radical protest movement to one both reclaimed by, and reclaiming, the consensus. Illustrating the nature of Israeli mainstream discourse as both anodyne and cruel, the book also analyses Israeli media representation of Checkpoint Watch and human rights activism in general. Keshet contends that the dilemmas of these Israeli women, torn between opposition to the Occupation and their loyalty to the state, reflects political divisions within Israel society as a whole. 
Year: 2006
Hardcover