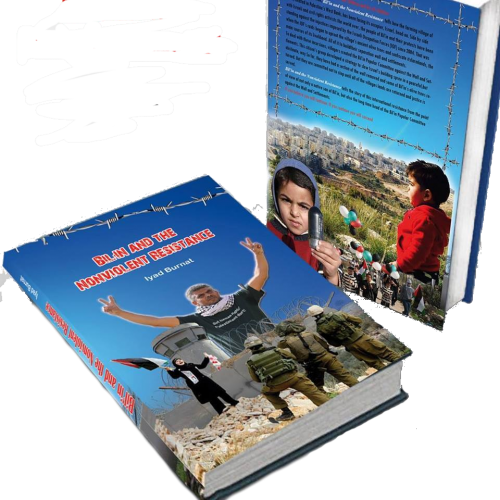 Bil'in and Nonviolent Resistance by Iyad Burnat
"A quiet, intense man with piercing eyes, enthusiasm for action and a fierce love of family, Iyad Burnat has turned the defense of his little village of Bil'in into an international phenomenon. If Palestinian resistance on the ground has a face, it is his.
"Iyad has led the non-violent resistance in Bil'in against the relentlessly advancing Israeli occupation for a decade, assembling with friends and allies every Friday in peaceful demonstrations that are regularly met with Israel military violence. His work has in turn inspired generations of fellow villagers and other Palestinians to pursue careers in photography, film and journalism, starting with his brother Emad Bornad, whose documentary film on the Bil'in demonstrations, 'Five Broken Cameras,' was nominated for an Oscar.
"This is the story the Israeli Occupation does not want you to hear: crowds of peaceful, unarmed Palestinian men, women and children marching or standing, chanting or silent, protesting the illegal taking of their land by a state that responds with brutal and arbitrary violent repression. Iyad has been beaten, jailed, threatened and shot. His son was maimed by an Israeli bullet. Close friends have been murdered. And still he has continued to build his movement of non-violent resistance making Bil'in a Mecca of Peace and Rights activists from around the world and touring the world himself to tell the still-too-little-known story of his people's struggle. Iyad is the embodiment of sumoud, the Palestinian word for graceful and dignified resistance and his book is a welcome addition to the growing literature on the peaceful Palestinian resistance."
- Peter Cohen, Activist
Paperback