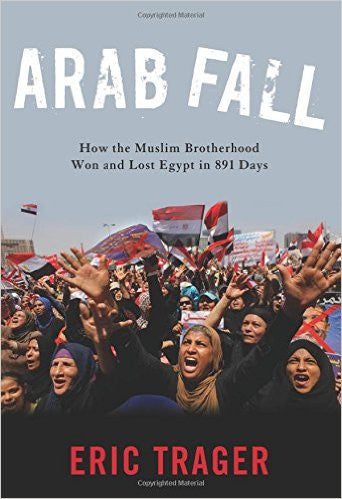 Arab Fall: How the Muslim Brotherhood Won and Lost Egypt in 891 Days by Eric Trager
How did Egypt's Muslim Brotherhood win power so quickly after the dramatic "Arab Spring" uprising that ended President Hosni Mubarak's thirty-year reign in February 2011? And why did the Brotherhood fall from power even more quickly, culminating with the popular "rebellion" and military coup that toppled Egypt's first elected president, Brotherhood leader Mohamed Morsi, in July 2013? In Arab Fall, Eric Trager examines the Brotherhood's decision making throughout this critical period, explaining its reasons for joining the 2011 uprising, running for a majority of the seats in the 2011―2012 parliamentary elections, and nominating a presidential candidate despite its initial promise not to do so. Based on extensive research in Egypt and interviews with dozens of Brotherhood leaders and cadres including Morsi, Trager argues that the very organizational characteristics that helped the Brotherhood win power also contributed to its rapid downfall. The Brotherhood's intensive process for recruiting members and its rigid nationwide command-chain meant that it possessed unparalleled mobilizing capabilities for winning the first post-Mubarak parliamentary and presidential elections.

Yet the Brotherhood's hierarchical organizational culture, in which dissenters are banished and critics are viewed as enemies of Islam, bred exclusivism. This alienated many Egyptians, including many within Egypt's state institutions. The Brotherhood's insularity also prevented its leaders from recognizing how quickly the country was slipping from their grasp, leaving hundreds of thousands of Muslim Brothers entirely unprepared for the brutal crackdown that followed Morsi's overthrow. Trager concludes with an assessment of the current state of Egyptian politics and examines the Brotherhood's prospects for reemerging.
Year: 2016
Hardcover