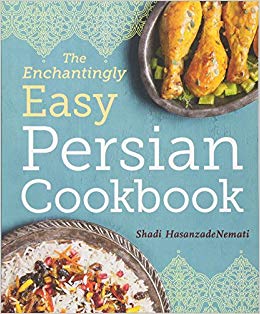 The Enchantingly Easy Persian Cookbook: 100 Simple Recipes for Beloved Persian Food Favorites by Shadi HasanzadeNemati
From the kitchens of Persian families to your dining table, with The Enchantingly Easy Persian Cookbook you'll enjoy easy-to-follow recipes that achieve the vibrant flavors of authentic Persian cuisine.
Yogurt, eggplant, lamb kebabs, saffron rice―if you have ever dined in a Persian restaurant then you know how rich, tantalizing, and satisfying Persian cuisine is. Yet many assume that making favorites, like Pomegranate and Walnut Stew or Saffron Syrup Cake, is too difficult to do at home.
Shadi HasanzadeNemati grew up in the kitchen of her Persian mother and can still remember being mesmerized by the sweet aromas of saffron and cinnamon. Inspired by her family's heirloom recipes, Shadi has created a collection of simple, straightforward takes on authentic Persian favorites that are accessible enough for beginners, yet still fun for more seasoned cooks.
The Enchantingly Easy Persian Cookbook brings the savory comforts and mystical essence of Persian home cooking to your dining table. The step-by-step instructions in this Persian cookbook make it easier than ever to create classic Persian mainstays in your own home.
Year: 2016
Paperback