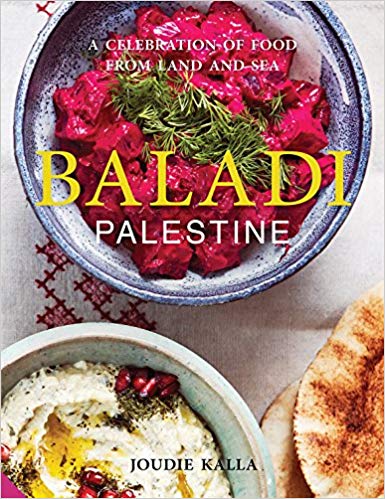 Baladi: A Celebration of Food from Land and Sea by Joudie Kalla
In an eagerly awaited follow-up to her debut Palestine on a Plate, Joudie Kalla introduces readers to more of the Middle East's best kept secret—Palestinian cuisine. "Baladi" means "my home, my land, my country," and Joudie once again pays homage to her homeland of Palestine by showcasing its wide ranging, vibrant and delicious dishes. Palestine is a country of diverse seasons and landscapes, and it is these conditions that create the many and varied ingredients featured in the book. Joudie takes a flexible approach to cooking, using influences from her home to create new dishes, and bringing her own twist to traditional recipes.

Baladi features recipes from each essential part of the ecosystem, including the land, the sea, the fields, the orchards… Experience the wonderful flavors of Palestine through Daoud Basha (lamb meatballs cooked in a tamarind and tomato sauce), khubzet za'atar (za'atar brioche twists), samak makli bil camun (fried fish selection with zucchini, mint and yogurt dip), atayef (soft pancakes filled with cream in an orange blossom sugar syrup), and many more sublime flavor combinations. With stunning color photographs to accompany each recipe, the book is also interspersed with shots of the landscapes, streets, and people of Palestine, reflecting the rich culinary culture running through the whole country.

Joudie Kalla is the author of the highly praised cookbook Palestine on a Plate: Memories from My Mother's Kitchen. She has been working as a chef for over 18 years. She trained at London's prestigious Leith's School of Food and Wine and has worked at restaurants such as Pengelley's, Daphne's, and Papillon. She has been running her own private catering company for over eight years and holds regular sold-out supper clubs. She also ran a hugely popular deli, Baity Kitchen, for three years and hosted Palestinian-themed dinners for Jamie Oliver's Fifteen charity.
Year: 2018
Hardcover