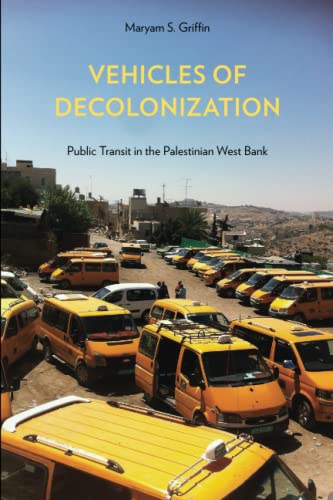 Vehicles of Decolonization: Public Transit in the Palestinian West Bank by Maryam S. Griffin
Examining the border-enclosure strategy Israel uses to impose Palestinian im/mobilization, Maryam Griffin considers the ways public transportation in the Palestinian West Bank is a constant site of social struggle. Her illuminating book, Vehicles of Decolonization, studies collective movement, resistance, and everyday life in the West Bank to show how Palestinians assert a kind of Indigenous self-determination over mobility that Israeli settler colonialism seeks to undermine.
Having immersed herself in a year of fieldwork, Griffin maps multiple engagements with the flexible bus, shared van, and private taxi services to demonstrate that the politics of mobility are shaped by ongoing settler colonialism and Indigenous struggle. Griffin uses critical border studies to look at the contested nature of mobility at the sites of transit, where Palestinians practice self-determination through routine participation, spectacular political organizing and demonstration, and artistic renderings.
Featuring a variety of street images, Vehicles of Decolonization shows that multiple registers of people power work in concert not only to resist settler colonial logics but to reinhabit the land through the practice and preservation of alternative relations of mobility.
Year: 2022
Paperback