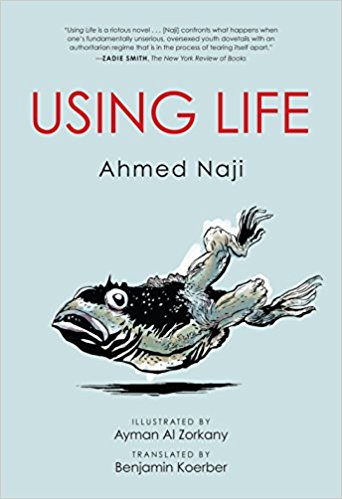 Using Life by Ahmed Naji and Translated by Benjamin Koerber
Upon its initial release in Arabic in the fall of 2014, Using Life received acclaim in Egypt and the wider Arab world. But in 2016, Ahmed Naji was sentenced to two years in prison after a reader complained that an excerpt published in a literary journal harmed public morality. His imprisonment marks the first time in modern Egypt that an author has been jailed for a work of literature. Writers and literary organizations around the world rallied to support Naji, and he was released in December 2016. His original conviction was overturned in May 2017 but, at the time of printing, he is awaiting retrial and banned from leaving Egypt.
Set in modern-day Cairo, Using Life follows a young filmmaker, Bassam Bahgat, after a secret society hires him to create a series of documentary films about the urban planning and architecture of Cairo. The plot in which Bassam finds himself ensnared unfolds in the novel's unique mix of text and black-and-white illustrations.
The Society of Urbanists, Bassam discovers, is responsible for centuries of world-wide conspiracies that have shaped political regimes, geographical boundaries, reigning ideologies, and religions. It is responsible for today's Cairo, and for everywhere else, too. Yet its methods are subtle and indirect: it operates primarily through manipulating urban architecture, rather than brute force. As Bassam immerses himself in the Society and its shadowy figures, he finds Cairo on the brink of a planned apocalypse, designed to wipe out the whole city and rebuild anew.
Year: 2017
Paperback