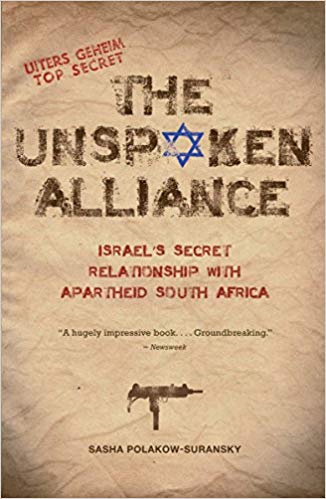 The Unspoken Alliance: Israel's Secret Relationship with Apartheid South Africa by Sasha Polakow-Suransky
Prior to the Six-Day War, Israel was a darling of the international left, vocally opposed to apartheid and devoted to building alliances with black leaders in newly independent African nations. South Africa, for its part, was controlled by a regime of Afrikaner nationalists who had enthusiastically supported Hitler during World War II. But after Israel's occupation of Palestinian territories in 1967, the country found itself estranged from former allies and threatened anew by old enemies. As both states became international pariahs, a covert—and lucrative—military relationship blossomed between these seemingly unlikely allies.
 
Based on extensive archival research and exclusive interviews with former generals and high-level government officials in both countries, The Unspoken Alliance tells a troubling story of Cold War paranoia, moral compromises, and startling secrets.
Year: 2011
Paperback