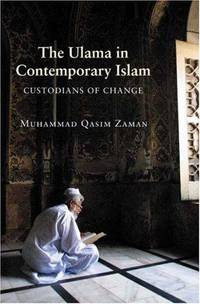 The Ulama in Contemporary Islam: Custodians of Change by Muhammad Qasim Zaman
From the cleric-led Iranian revolution to the rise of the Taliban in Afghanistan, many people have been surprised by what they see as the modern reemergence of an antimodern phenomenon. This book helps account for the increasingly visible public role of traditionally educated Muslim religious scholars (the `ulama) across contemporary Muslim societies. Muhammad Qasim Zaman describes the transformations the centuries-old culture and tradition of the `ulama have undergone in the modern era--transformations that underlie the new religious and political activism of these scholars. In doing so, it provides a new foundation for the comparative study of Islam, politics, and religious change in the contemporary world.
While focusing primarily on Pakistan, Zaman takes a broad approach that considers the Taliban and the `ulama of Iran, Egypt, Saudi Arabia, India, and the southern Philippines. He shows how their religious and political discourses have evolved in often unexpected but mutually reinforcing ways to redefine and enlarge the roles the `ulama play in society. Their discourses are informed by a longstanding religious tradition, of which they see themselves as the custodians. But these discourses are equally shaped by--and contribute in significant ways to--contemporary debates in the Muslim public sphere.
This book offers the first sustained comparative perspective on the `ulama and their increasingly crucial religious and political activism. It shows how issues of religious authority are debated in contemporary Islam, how Islamic law and tradition are continuously negotiated in a rapidly changing world, and how the `ulama both react to and shape larger Islamic social trends. Introducing previously unexamined facets of religious and political thought in modern Islam, it clarifies the complex processes of religious change unfolding in the contemporary Muslim world and goes a long way toward explaining their vast social and political ramifications.
Year: 2002
Hardcover
Condition: Very Good