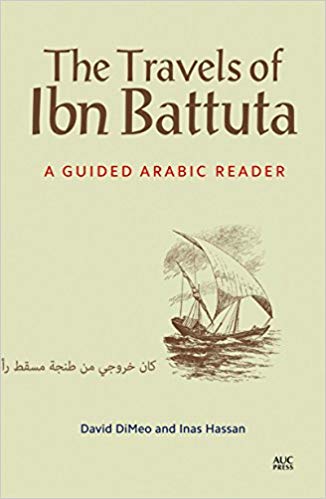 The Travels of Ibn Battuta: A Guided Arabic Reader (Bilingual Edition) by David DiMeo and Inas Hassan
The Travels of Ibn Battuta: A Guided Reader is a unique Arabic literature and history textbook for students at the High Intermediate to Advanced level. Ibn Battuta was the greatest traveler of the medieval period, and his narrative provides an unmatched view of medieval civilization from Spain to China, and from Russia to Mali. Students will read the authentic descriptions of Ibn Battuta's encounters with cannibals, desert bandits, Mongol chieftains, and his impressions of wonders from Timbuktu to Constantinople to Quanzhou. This book provides a guided and scaffolded survey of Ibn Battuta's greatest travels through twenty lessons, each with extensive preparatory, explanatory, and application exercises, enabling students to read the actual words of the original text without undue difficulty.
While telling a fascinating narrative as a whole, each of the twenty lessons is designed to stand alone for classroom or individual study. Individual sections focus on classical grammar and stylistics, historical and cultural background and critical evaluation of the texts. The book also provides teachers with a wide range of comprehension, composition, interpretation, and research activities.
Year: 2016