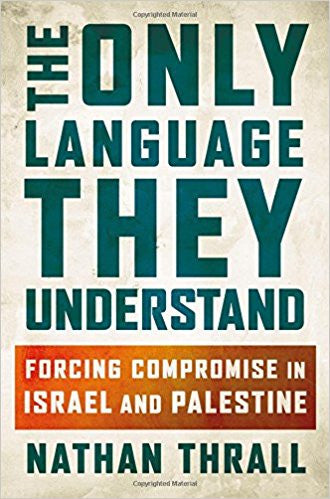 The Only Language They Understand: Forcing Compromise in Israel and Palestine by Nathan Thrall
In a myth-busting analysis of the world's most intractable conflict, a star of Middle East reporting, "one of the most important writers" in the field (The New York Times), argues that only one weapon has yielded progress: force.
Scattered over the territory between the Jordan River and the Mediterranean Sea lie the remnants of failed peace proposals, international summits, secret negotiations, UN resolutions, and state-building efforts. The conventional story is that these well-meaning attempts at peacemaking were repeatedly, perhaps terminally, thwarted by violence.
Through a rich interweaving of reportage, historical narrative, and powerful analysis, Nathan Thrall presents a startling counter-history. He shows that force―including but not limited to violence―has impelled each side to make its largest concessions, from Palestinian acceptance of a two-state solution to Israeli territorial withdrawals. This simple fact has been neglected by the world powers, which have expended countless resources on initiatives meant to diminish friction between the parties. By quashing any hint of confrontation, promising an imminent negotiated solution, facilitating security cooperation, developing the institutions of a still unborn Palestinian state, and providing bounteous economic and military assistance, the United States and Europe have merely entrenched the conflict by lessening the incentives to end it. Thrall's important book upends the beliefs steering these failed policies, revealing how the aversion of pain, not the promise of peace, has driven compromise for Israelis and Palestinians alike.
Published as Israel's occupation of East Jerusalem, the West Bank, and Gaza reaches its fiftieth anniversary, which is also the centenary of the Balfour Declaration that first promised a Jewish national home in Palestine, The Only Language They Understand advances a bold thesis that shatters ingrained positions of both left and right and provides a new and eye-opening understanding of this most vexed of lands.
Year: 2017
Hardcover