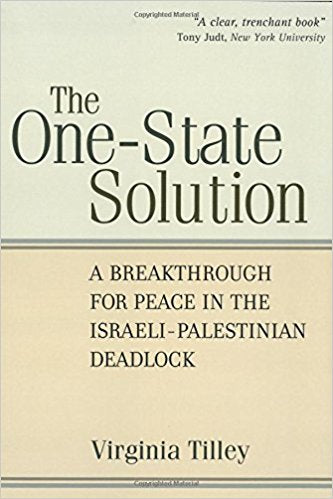 The One-State Solution: A Breakthrough for Peace in the Israeli-Palestinian Deadlock by Virginia Tilley
"A clear, trenchant book on a topic of enormous importance . . . a courageous plunge into boiling waters. If The One-State Solution helps propel forward a debate that has hardly begun in this country it will have performed a signal scholarly and political function."
---Tony Judt, New York University
". . . a pioneering text. . . . [A]s such it will take pride of place in a brewing debate."
---Gary Sussman, Tel Aviv University
"The words 'The One-State Solution' seem to strike dread, at the least, or terror, at the most, in any established, institutional, or mainstream discourse having to do with the Israeli-Palestinian conflict. . . . It therefore takes great courage---and I use the word literally---to title explicitly a book under that infamous label. . . . Virginia Tilley is blessed with such courage and complements it with the requisite academic erudition. . . . Weaving her way through the historical progression of Zionism and through late 20th century and current international and Middle Eastern politics, she shows how the additional, pernicious state of settlement expansion (abetted by other massive human rights violations that go with the occupation) has brought us to the point where only a one-state solution can provide a just peace (and not just a state of conflict management going under the misnomer of peace)."
--- Anat Biletsky, Middle East Journal
Recent events have once more put the Israeli-Palestinian issue on the front page. After decades of failed peace initiatives, the prospect of reconciliation is in the air yet again as the principal actors maneuver to end the conflict and---the world hopes---bring peace to the region. A one-state solution is a way toward that peace and needs serious, renewed consideration.
The One-State Solution explains how Israeli settlements have encroached on the occupied territory of the West Bank and Gaza Strip to such an extent that any Palestinian state in those areas is unworkable. And it reveals the irreversible impact of Israel's settlement grid by summarizing its physical, demographic, financial, and political dimensions.
Virginia Tilley elucidates why we should assume that this grid will not be withdrawn---or its expansion reversed---by reviewing the role of the key political actors: the Israeli government, the United States, the Arab states, and the European Union.
Finally, Tilley focuses on the daunting obstacles to a one-state solution---including major revision of the Zionist dream but also Palestinian and other regional resistance---and offers some ideas about how those obstacles might be addressed.
Virginia Tilley is Chief Research Specialist in the Democracy and Governance Division of the Human Resources Council in Cape Town, South Africa.
Year: 2010
Paperback