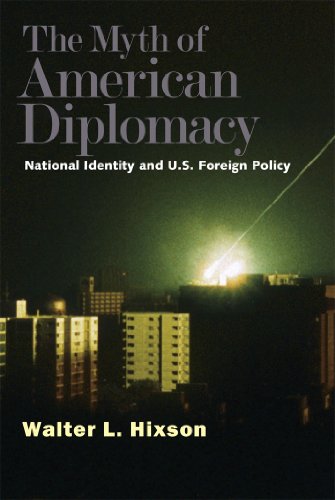 The Myth of American Diplomacy: National Identity and U.S. Foreign Policy by Walter L. Hixson
In this major reconceptualization of the history of U.S. foreign policy, Walter Hixson engages with the entire sweep of that history, from its Puritan beginnings to the twenty-first century's war on terror. He contends that a mythical national identity, which includes the notion of American moral superiority and the duty to protect all of humanity, has had remarkable continuity through the centuries, repeatedly propelling America into war against an endless series of external enemies. As this myth has supported violence, violence in turn has supported the myth.
The Myth of American Diplomacy shows the deep connections between American foreign policy and the domestic culture from which it springs. Hixson investigates the national narratives that help to explain ethnic cleansing of Indians, nineteenth-century imperial thrusts in Mexico and the Philippines, the two World Wars, the Cold War, the Iraq War, and today's war on terror. He examines the discourses within America that have continuously inspired what he calls our "pathologically violent foreign policy." The presumption that, as an exceptionally virtuous nation, the United States possesses a special right to exert power only encourages violence, Hixson concludes, and he suggests some fruitful ways to redirect foreign policy toward a more just and peaceful world.
Year: 2009
Paperback