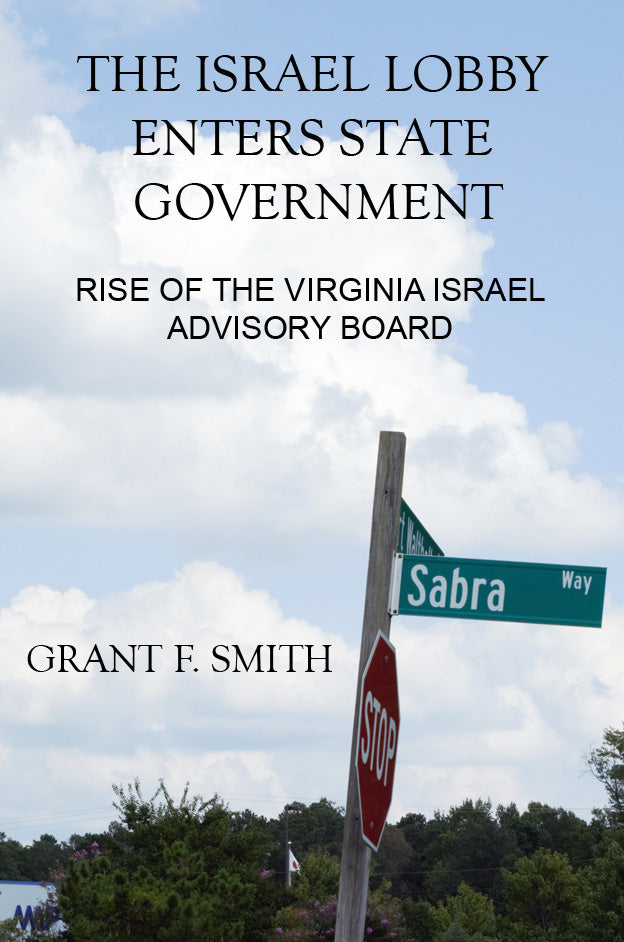 The Israel Lobby Enters State Government: Rise of the Virginia Israel Advisory Board by Grant Smith
This book chronicles the formation, rise and secret activities of the Virginia Israel Advisory Board (VIAB). While other books have focused on the Israel lobby's influence over the federal government and U.S. foreign policy, there has been little research on Israel lobbying at the state level. Using sensitive documents acquired under Virginia's sunshine law, this book argues that in Virginia the Israel lobby is no longer on the outside, but has now entered state government.


The Virginia Israel Advisory Board (VIAB) is presently the only state government entity in the U.S. focused entirely on bringing corporations in from a single foreign country. The book explores how millions in taxpayer and other state funds are quietly being diverted from multiple sources to establish profitable Israeli companies in Virginia. The corporations are involved in military contracting, food and beverage manufacturing, energy generation, waste management and aquaculture. The author analyzes how VIAB projects displace workers and put home-grown market leaders out of business. By unmasking Israeli businesses launching operations that VIAB protects under code-names and opaque shell companies to secretly transact business in Virginia, the book exposes the reason behind some of the secrecy—their extensive business dealings in territory illegally occupied by Israel.


The author delves into the establishment of VIAB by the state's Jewish federations, and their continued involvement as VIAB board members, as well as their attempts to rewrite school textbooks and quash through new laws speech critical of Israel. Smith exposes who is running VIAB, how they leverage political campaign contributions, and the bankruptcy of VIAB's many claims that their dealings are advancing the prosperity of working Virginians—as opposed to Israeli companies and VIAB insiders. He probes the true nature of the Virginia Israel Advisory Board and the future threat if similar Israel lobby entities proliferate within other state governments.
 Year: 2019
Paperback