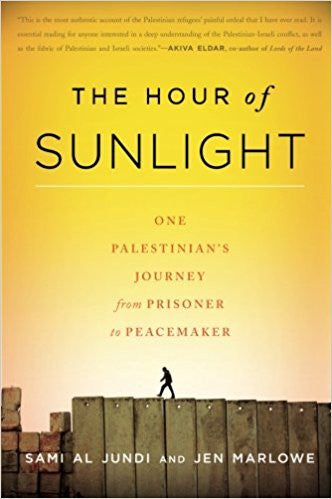 The Hour of Sunlight: One Palestinian's Journey from Prisoner to Peacemaker by Sami Al Jundi and Jen Marlowe
As a teenager in Palestine, Sami al Jundi had one ambition: overthrowing Israeli occupation. With two friends, he began to build a bomb to use against the police. But when it exploded prematurely, killing one of his friends, al Jundi was caught and sentenced to ten years in prison.
It was in an Israeli jail that his unlikely transformation began. Al Jundi was welcomed into a highly organized, democratic community of political prisoners who required that members of their cell read, engage in political discourse on topics ranging from global revolutions to the precepts of nonviolent protest and revolution.
Al Jundi left prison still determined to fight for his people's rights—but with a very different notion of how to undertake that struggle. He cofounded the Middle East program of Seeds of Peace Center for Coexistence, which brings together Palestinian and Israeli youth.
Marked by honesty and compassion for Palestinians and Israelis alike, The Hour of Sunlight illuminates the Palestinian experience through the story of one man's struggle for peace.
Year: 2011
paperbacP