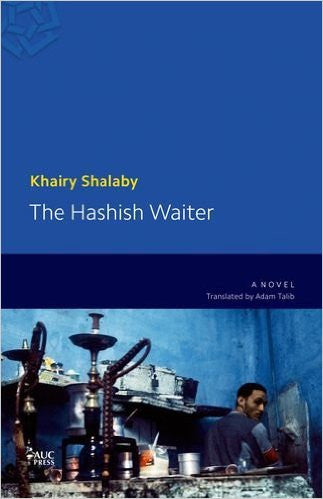 The Hashish Waiter by Khairy Shalaby
Tucked away in a rundown quarter, just out of sight of fashionable downtown Cairo, a group of intellectuals gather regularly to smoke hashish in Hakeem's den. The den is the center of their lives, both a refuge and a stimulus, and at the center of the den is the remarkable man who keeps their hashish bowls topped up-Rowdy Salih.

While his former life is a mystery to his loyal clientele of writers, painters, film directors, and even window dressers, each sees himself reflected in Salih; but without his humor, humility, or insight, or his occasional passions fueled by hootch. And when the nation has to face its own demons during the peace initiative of the 1970s, it is Rowdy Salih who speaks for them all.

This is a comic novel with a broken heart very like Salih himself, whose warm rough voice calls out long after we have recovered from the novel's painful conclusion.
Year: 2016
Paperback