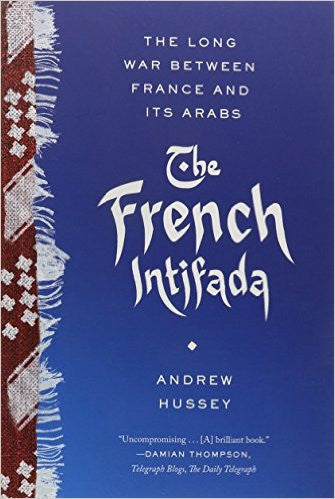 The French Intifada: The Long War Between France and Its Arabs by Andrew Hussey
To fully understand both the social and political pressures wracking contemporary France and, indeed, all of Europe as well as major events from the Arab Spring in the Middle East to the tensions in Mali, Andrew Hussey believes that we have to look beyond the confines of domestic horizons. As much as unemployment, economic stagnation, and social deprivation exacerbate the ongoing turmoil in the "banlieues," the root of the problem lies elsewhere: in the continuing fallout from Europe's colonial era.
Combining a fascinating and compulsively readable mix of history, literature, and politics with his years of personal experience visiting the "banlieues" and countries across the Arab world, especially Algeria, Hussey attempts to make sense of the present situation. In the course of teasing out the myriad interconnections between past and present in Algeria, Morocco, Tunisia, Beirut, and Western Europe, "The French Intifada "shows that the defining conflict of the twenty-first century will not be between Islam and the West but between two dramatically different experiences of the world the colonizers and the colonized."
Year: 2015
Paperback