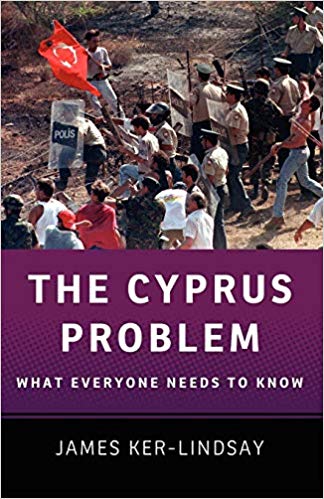 The Cyprus Problem: What Everyone Needs to Know by James Ker-Lindsay
For nearly 60 years--from its uprising against British rule in the 1950s, to the bloody civil war between Greek and Turkish Cypriots in the 1960s, the Turkish invasion of Cyprus in the 1970s, and the United Nation's ongoing 30-year effort to reunite the island--the tiny Mediterranean nation of Cyprus has taken a disproportionate share of the international spotlight. And while it has been often in the news, accurate and impartial information on the conflict has been nearly impossible to obtain. 

In The Cyprus Problem: What Everyone Needs to Know®, James Ker-Lindsay--recently appointed as expert advisor to the UN Secretary-General's Special Advisor on Cyprus--offers an incisive, even-handed account of the conflict. Ker-Lindsay covers all aspects of the Cyprus problem, placing it in historical context, addressing the situation as it now stands, and looking toward its possible resolution. The book begins with the origins of the Greek and Turkish Cypriot communities as well as the other indigenous communities on the island (Maronites, Latin, Armenians, and Gypsies). Ker-Lindsay then examines the tensions that emerged between the Greek and Turkish Cypriots after independence in 1960 and the complex constitutional provisions and international treaties designed to safeguard the new state. He pays special attention to the Turkish invasion in 1974 and the subsequent efforts by the UN and the international community to reunite Cyprus. The book's final two chapters address a host of pressing issues that divide the two Cypriot communities, including key concerns over property, refugee returns, and the repatriation of settlers. Ker-Lindsay concludes by considering whether partition really is the best solution, as many observers increasingly suggest.

Written by a leading expert, The Cyprus Problem brings much needed clarity and understanding to a conflict that has confounded observers and participants alike for decades.
Year: 2011
Paperback