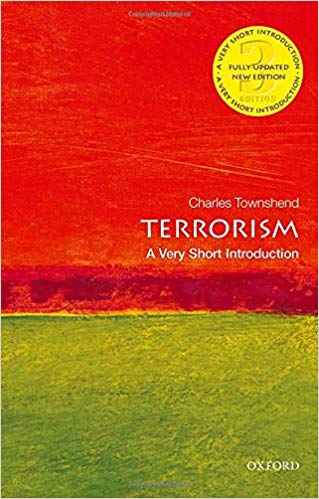 Terrorism: A Very Short Introduction
Is one person's terrorist another's freedom fighter? Is terrorism crime or war? Can there be a "War on Terror"? 

For many, the terrorist attacks of September 2001 changed the face of the world, pushing terrorism to the top of political agendas, and leading to a series of world events including the war in Iraq and the invasion of Afghanistan. The recent terror attacks in various European cities have shown that terrorism remains a crucial issue today. Charting a clear path through the efforts to understand and explain modern terrorism, Charles Townshend examines the historical, ideological, and local roots of terrorist violence.

Starting from the question of why terrorists find it so easy to seize public attention, this new edition analyzes the emergence of terrorism as a political strategy, and discusses the objectives which have been pursued by users of this strategy from French revolutionaries to Islamic jihadists. Considering the kinds of groups and individuals who adopt terrorism, Townshend discusses the emergence of ISIS and the upsurge in individual suicide action, and explores the issues involved in finding a proportionate response to the threat they present, particularly by liberal democratic societies. Analyzing the growing use of knives and other edged weapons in attacks, and the issue of "cyberterror," Townshend details the use of counterterrorist measures, from control orders to drone strikes, including the Belgian and French responses to the Brussels, Paris, Nice, and Rouen attacks.
Year: 2018
Paperback