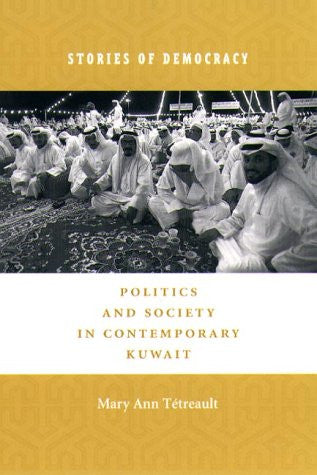 Stories of Democracy: Politics and Society in Contemporary Kuwait by Mary Ann Tétreault
A sophisticated investigation of the shifting tides of democratic governance in modern Kuwait from 1921 to the present based on interviews both with political activists and members of the political elite, Stories of Democracy sheds light on a wide array of issues concerning Middle Eastern politics and democratic institutions in general.
Mary Ann Tétreault explores how various political factions have sought to advance their own notions of Kuwaiti history and politics through distinctive popular appeals: (1) pro-democracy forces focusing on Kuwait's relationship to the universal values of the democratic world around them, and (2) anti-democrats proffering Arab and Muslim religious and cultural traditions. She explores how such dramatic events as the suspension of the Kuwaiti constitution in 1986 and the invasion by Iraq in 1990 occasioned major shifts in the course of the democracy movement. The current running through virtually all of the nation's political drama is the monolithic Kuwait Petroleum Corporation (KPC), used by the government as an instrument of economic strength to safeguard sovereignty in the absence of military might.
Year: 2000
Paperback