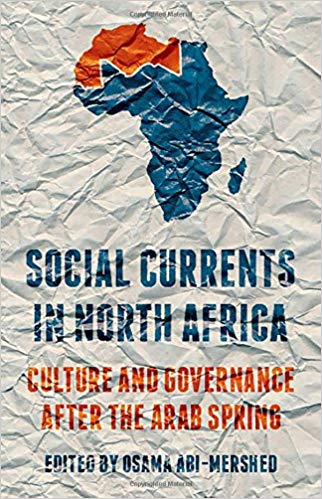 Social Currents in North Africa: Culture and Governance after the Arab Spring by Osama Abi-Mershed
Social Currents in North Africa is a multi-disciplinary analysis of the social phenomena unfolding in the Maghreb today. The contributors analyze the genealogies of contemporary North African behavioral and ideological norms, and offer insights into post-Arab Spring governance and today's social and political trends.
The book situates regional developments within broader international currents, without forgoing the distinct features of each socio-historical context. With its common historical, cultural, and socio-economic foundations, the Maghreb is a cohesive area of study that allows for greater understanding of domestic developments from both single-country and comparative perspectives. This volume refines the geo-historical unity of the Maghreb by accounting for social connections, both within the nation-state and across political boundaries and historical eras. It illustrates that non-institutional phenomena are equally formative to the ongoing project of post-colonial sovereignty, to social construction and deployments of state power, and to local outlooks on social equity, economic prospects, and cultural identity.
Year: 2018
Paperback