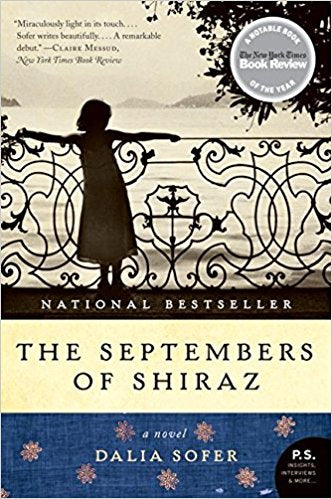 Septembers of Shiraz by Dalia Sofer
In the aftermath of the Iranian revolution, rare-gem dealer Isaac Amin is arrested, wrongly accused of being a spy. Terrified by his disappearance, his family must reconcile a new world of cruelty and chaos with the collapse of everything they have known.
As Isaac navigates the tedium and terrors of prison, forging tenuous trusts, his wife feverishly searches for him, suspecting, all the while, that their once-trusted housekeeper has turned on them and is now acting as an informer. And as his daughter, in a childlike attempt to stop the wave of baseless arrests, engages in illicit activities, his son, sent to New York before the rise of the Ayatollahs, struggles to find happiness even as he realizes that his family may soon be forced to embark on a journey of incalculable danger.
A page-turning literary debut, The Septembers of Shiraz simmers with questions of identity, alienation, and love, not simply for a spouse or a child, but for all the intangible sights and smells of the place we call home.
Year: 2008
Paperback