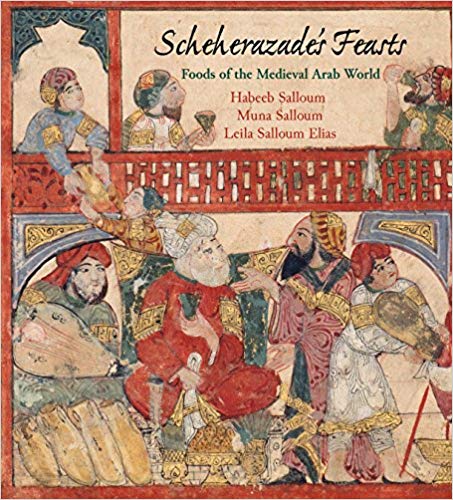 Scheherazade's Feasts: Foods of the Medieval Arab World by Habeeb Salloum, Muna Salloum, and Leila Salloum Elias
The author of the thirteenth-century Arabic cookbook Kitāb al-Ṭabīkh proposed that food was among the foremost pleasures in life. Scheherazade's Feasts invites adventurous cooks to test this hypothesis.
From the seventh to the thirteenth centuries, the influence and power of the medieval Islamic world stretched from the Middle East to the Iberian Peninsula, and this Golden Age gave rise to great innovation in gastronomy no less than in science, philosophy, and literature. The medieval Arab culinary empire was vast and varied: with trade and conquest came riches, abundance, new ingredients, and new ideas. The emergence of a luxurious cuisine in this period inspired an extensive body of literature: poets penned lyrics to the beauty of asparagus or the aroma of crushed almonds; nobles documented the dining customs obliged by etiquette and opulence; manuals prescribed meal plans to deepen the pleasure of eating and curtail digestive distress.
Drawn from this wealth of medieval Arabic writing, Scheherazade's Feasts presents more than a hundred recipes for the foods and beverages of a sophisticated and cosmopolitan empire. The recipes are translated from medieval sources and adapted for the modern cook, with replacements suggested for rare ingredients such as the first buds of the date tree or the fat rendered from the tail of a sheep. With the guidance of prolific cookbook writer Habeeb Salloum and his daughters, historians Leila and Muna, these recipes are easy to follow and deliciously appealing. The dishes are framed with verse inspired by them, culinary tips, and tales of the caliphs and kings whose courts demanded their royal preparation. To contextualize these selections, a richly researched introduction details the foodscape of the medieval Islamic world.
Year: 2019
Paperback