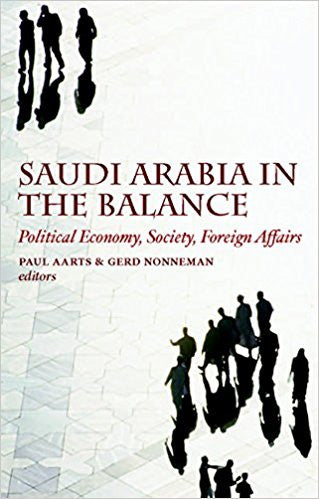 Saudi Arabia in the Balance: Political Economy, Society, Foreign Affairs by Paul Aaarts and Gerd Nonneman
Saudi Arabia in the Balance brings together today's leading scholars in the field to investigate the domestic, regional, and international affairs of a Kingdom whose policies have so far eluded the outside world. With the passing of King Fahd and the installation of King Abdullah, a contemporary understanding of Saudi Arabia is essential as the Kingdom enters a new era of leadership and particularly when many Saudis themselves are increasingly debating, and actively shaping, the future direction of domestic and foreign affairs.
Each of the essays, framed in the aftermath of 9/11 and the 2003 invasion of Iraq, offers a systematic perspective into the country's political and economic realities as well as the tension between its regional and global roles. Important topics covered include U.S. and Saudi relations; Saudi oil policy; the Islamist threat to the monarchy regime; educational opportunities; the domestic rise of liberal opposition; economic reform; the role of the royal family; and the country's foreign relations in a changing international world.
Year: 2007
Hardcover