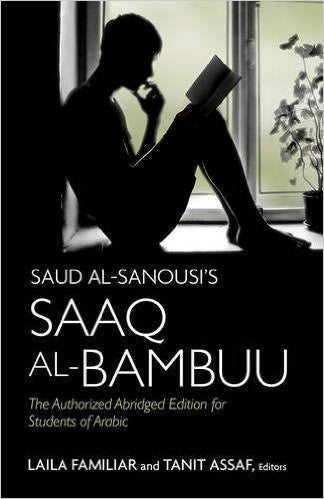 Saud al-Sanousi's Saaq al-Bambuu: The Authorized Abridged Edition for Students of Arabic by Laila Familiar
Saaq al-Bambuu (The Bamboo Stalk) by Kuwaiti novelist Saud al-Sanousi provides students at the intermediate-advanced Arabic language level the opportunity to engage with an award-winning work of contemporary fiction. This abridged version has been approved by the author, authenticating the richness of a text that offers students the means to develop vocabulary and reading fluency while sensitizing them to the stylistics of the language.

The novel is a coming-of-age story of a half-Filippino, half-Kuwaiti teen who returns to his father's Kuwait. There, he explores his own identity as a poor Filipino in a culture he does not know well and receives a mixed welcome from his own wealthy relatives. Universal concepts of identity, faith, belonging, poverty/wealth, and otherness are explored through a poetic narrative and engaging plot that will keep students captivated from the first line to the very last page.

Included within the book are chapter exercises that develop linguistic and cultural competencies, a short biography of the author, and glossaries of literary terms and devices. As with Laila Familiar's Sayyidi wa Habibi, this authorized version of the abridged text by a contemporary Arabic author will be warmly embraced by college and university students of Arabic as well as by independent learners.
Year: 2016
Paperback