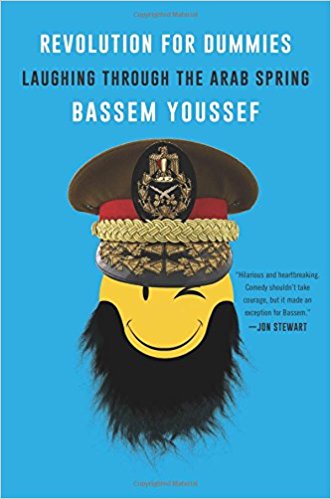 Revolution for Dummies: Laughing through the Arab Spring by Bassem Youssef
"Hilarious and Heartbreaking. Comedy shouldn't take courage, but it made an exception for Bassem." --Jon Stewart
"The Jon Stewart of the Arabic World"—the creator of The Program, the most popular television show in Egypt's history—chronicles his transformation from heart surgeon to political satirist, and offers crucial insight into the Arab Spring, the Egyptian Revolution, and the turmoil roiling the modern Middle East, all of which inspired the documentary about his life, Tickling Giants.
Bassem Youssef's incendiary satirical news program, Al-Bernameg (The Program), chronicled the events of the 2011 Egyptian Revolution, the fall of President Hosni Mubarak, and the rise of Mubarak's successor, Mohamed Morsi. Youssef not only captured his nation's dissent but stamped it with his own brand of humorous political criticism, in which the Egyptian government became the prime laughing stock.
So potent were Youssef's skits, jokes, and commentary, the authoritarian government accused him of insulting the Egyptian presidency and Islam. After a six-hour long police interrogation, Youssef was released. While his case was eventually dismissed, his television show was terminated, and Youssef, fearful for his safety, fled his homeland.
In Revolution for Dummies, Youssef recounts his life and offers hysterical riffs on the hypocrisy, instability, and corruption that has long animated Egyptian politics. From the attempted cover-up of the violent clashes in Tahrir Square to the government's announcement that it had created the world's first "AIDS cure" machine, to the conviction of officials that Youssef was a CIA operative—recruited by Jon Stewart—to bring down the country through sarcasm. There's much more—and it's all insanely true.
Interweaving the dramatic and inspiring stories of the development of his popular television show and his rise as the most contentious funny-man in Egypt, Youssef's humorous, fast-paced takes on dictatorship, revolution, and the unforeseeable destiny of democracy in the Modern Middle East offers much needed hope and more than a few healing laughs. A documentary about his life, Tickling Giants, debuted at the Tribeca Film Festival in 2016, and is now scheduled for major release.
Year: 2017
Paperback