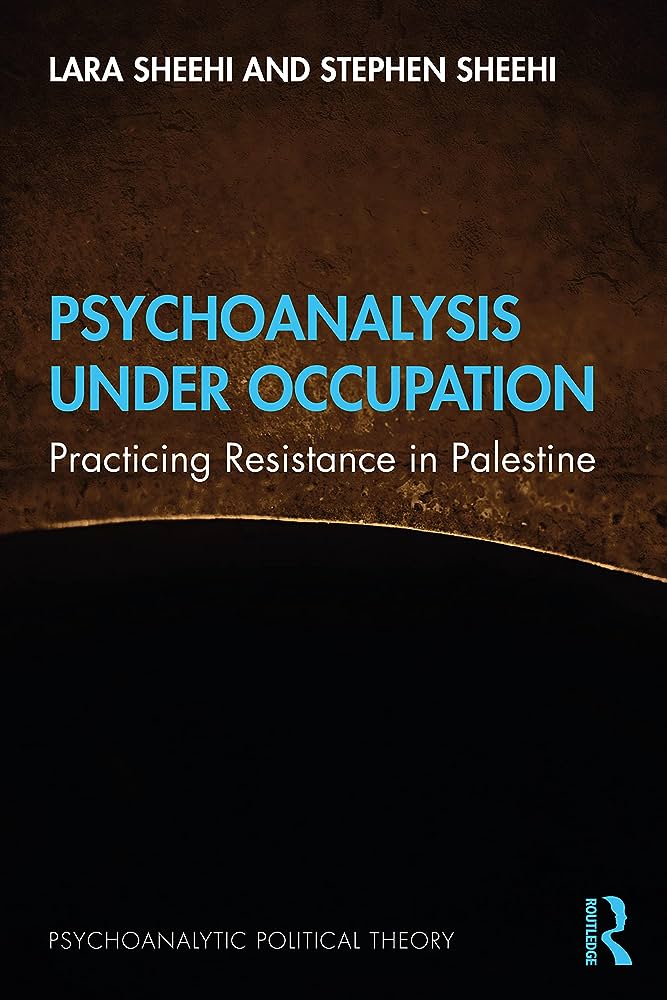 Psychoanalysis Under Occupation: Practicing Resistance in Palestine by Lara Sheehi and Stephen Sheehi
Heavily influenced by Frantz Fanon and critically engaging the theories of decoloniality and liberatory psychoanalysis, Lara Sheehi and Stephen Sheehi platform the lives, perspectives, and insights of psychoanalytically inflected Palestinian psychologists, psychiatrists, and other mental health professionals, centering the stories that non-clinical Palestinians have entrusted to them over four years of community engagement with clinicians throughout historic Palestine.
Sheehi and Sheehi document the stories of Palestinian clinicians in relation to settler colonialism and violence but, even more so, in relation to their patients, communities, families, and one another (as a clinical community). In doing so, they track the appearance of settler colonialism as a psychologically extractive process, one that is often effaced by discourses of "normalization," "trauma," "resilience," and human rights, with the aid of clinicians, as well as psychoanalysis.
Psychoanalysis Under Occupation: Practicing Resistance in Palestine unpacks the intersection of psychoanalysis as a psychological practice in Palestine, while also advancing a set of therapeutic theories in which to critically engage and "read" the politically complex array of conditions that define life for Palestinians living under Israeli occupation.
Lara Sheehi (she/her) is an Assistant Professor of Clinical Psychology at the George Washington University Professional Psychology program. Her work is on decolonial struggles as well as power, race, class, and gender constructs and dynamics within psychoanalysis. Lara is the secretary and president-elect of the Society for Psychoanalysis and Psychoanalytic Psychology and is the chair of the Teachers' Academy of the American Psychoanalytic Association. She is co-editor of Studies in Gender & Sexuality and of Counterspace in Psychoanalysis, Culture and Society. Lara is on the advisory board to the USA-Palestine Mental Health Network and Psychoanalysis for Pride.
Stephen Sheehi (he/him) is the Sultan Qaboos Professor of Middle East Studies and Director of the Decolonizing Humanities Project at William & Mary, where he is also Professor of Arabic Studies in the Asian and Middle East Studies Program, Arabic Program, and Asian and Pacific Islander American Studies Program. His research is in the intellectual and cultural history of the Arab world (including indigenous photography), Islamophobia in the United States and Europe, and liberation thought and praxis in the context of colonialism, racism, capitalism, sexism, and cis-heteronormativity. He is the author of a number of books including Camera Palaestina: Photography and Displaced Histories of Palestine (with Salim Tamari and Issam Nassar), Arab Imago: A Social History of Portrait Photography, 1860-1910, and Islamophobia: The Ideological Campaign Against Muslims and Foundations of Modern Arab Identity.
Year: 2023
Paperback