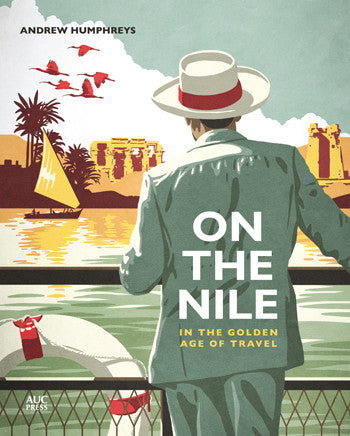 On the Nile in the Golden Age of Travel by Andrew Humphreys
Since Antony and Cleopatra honeymooned on the Nile on a gilded barge, visitors to Egypt have taken to the river as the best way to experience the country's wonders. Early travelers took a dahabiya, an elegant triangular-sailed houseboat, and leisurely meandered from riverside site to site, for three months or more. Then from the late nineteenth century, Thomas Cook of Leicester, England, revolutionized the journey with a fleet of specially built paddle steamers. For the next sixty years these 'floating palaces,' with their private cabins, and dining, smoking, and viewing salons, red-uniformed dragoman guides, and organized donkey excursions, carried the aristocratic, moneyed, and adventurous of international society of the time.
Using period photography, and colorful vintage posters and advertising material, this book tells the story of the people, the places, and the boats, from pioneering Nile travelers like Amelia Edwards and Lucie Duff Gordon, through to famed later passengers, such as Rudyard Kipling, Arthur Conan Doyle, and, of course, Agatha Christie, whose staging of a death on the Nile only added to the allure.
Year: 2015
Paperback