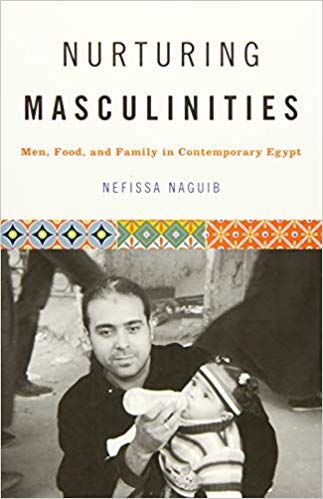 Nurturing Masculinities: Men, Food, and Family in Contemporary Egypt by Nefissa Naguib
Two structuring concepts have predominated in discussions concerning how Middle Eastern men enact their identity culturally: domination and patriarchy. Nurturing Masculinities dispels the illusion that Arab men can be adequately represented when we speak of them only in these terms. By bringing male perspectives into food studies, which typically focus on the roles of women in the production and distribution of food, Nefissa Naguib demonstrates how men interact with food, in both political and domestic spheres, and how these interactions reflect important notions of masculinity in modern Egypt.
In this classic ethnography, narratives about men from a broad range of educational backgrounds, age groups, and social classes capture a holistic representation of masculine identity and food in modern Egypt on familial, local, and national levels. These narratives encompass a broad range of issues and experiences, including explorations of traditions surrounding food culture; displays of caregiving and love when men recollect the taste, feel, and fragrance of food as they discuss their desires to feed their families well and often; and the role that men, working to ensure the equitable distribution of food, played during the Islamist movement of the Muslim Brotherhood in 2011. At the core of Nurturing Masculinities is the idea that food is a powerful marker of manhood, fatherhood, and family structure in contemporary Egypt, and by better understanding these foodways, we can better understand contemporary Egyptian society as a whole.
Year: 2015
Paperback