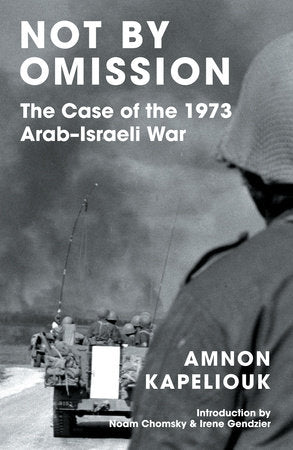 Not by Omission: The Case of the 1973 Arab-Israeli War by Amnon Kapeliouk
A major new reading of the 1973 war in the Middle East, an act of Israeli hubris that planted the seeds of the current crisis
In this book, first published in Hebrew in 1975 and now available in English for the first time with an introduction by Noam Chomsky, Amnon Kapeliouk traces the policies and attitudes that led to the 1973 Arab-Israel war.
He describes the multiple diplomatic overtures from Egyptian presidents Nasser and Sadat after 1967 that Israel ignored or contemptuously rejected, as well as the complacent attitude that had become fully entrenched in the Israeli military establishment.
On the political level, the triumvirate of Golda Meir, Moshe Dayan and Israel Galili feature prominently as a study in arrogance and incompetence. Kapeliouk also notes the protest movement that arose among active-duty soldiers as well as veterans in the wake of the war demanding political accountability for the failures of the war.
Finally, the book examines Israel's policy of colonizing the territories occupied in 1967, starting with the Golan Heights and later spreading to the West Bank ("Judaea and Samaria") and the Sinai - a policy that did much to convince the leaders of Arab states that war was their only option.
Introduced by Noam Chomsky and Irene Gendzier.
Year: 2022
Paperback