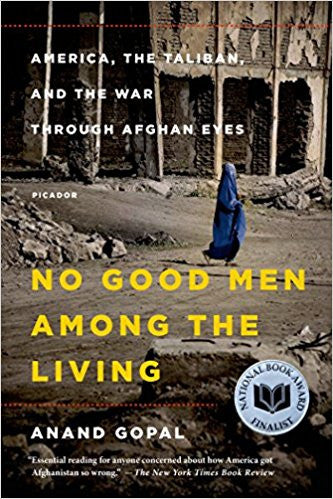 No Good Men Among the Living: America, the Taliban, and the War through Afghan Eyes by Anand Gopal
"Essential reading for anyone concerned about how America got Afghanistan so wrong. A devastating, well-honed prosecution detailing how our government bungled the initial salvo in the so-called war on terror, ignored attempts by top Taliban leaders to surrender, trusted the wrong people, and backed a feckless and corrupt Afghan regime . . . It is ultimately the most compelling account I've read of how Afghans themselves see the war." --The New York Times Book Review

In a breathtaking chronicle, acclaimed journalist Anand Gopal traces the lives of three Afghans caught in America's war on terror. He follows a Taliban commander, who rises from scrawny teenager to leading insurgent; a U.S.-backed warlord, who uses the American military to gain wealth and power; and a village housewife trapped between the two sides, who discovers the devastating cost of neutrality. Through their dramatic stories, No Good Men Among the Living stunningly lays bare the workings of America's longest war and the truth behind its prolonged agony.

Year: 2015