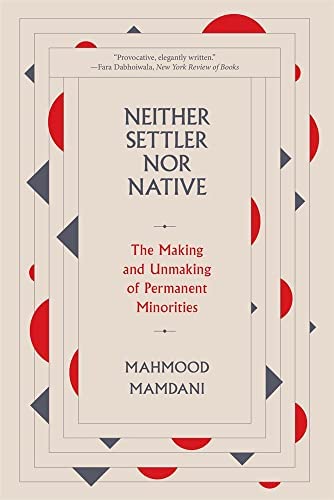 Neither Settler Nor Native: The Making and Unmaking of Permanent Minorities by Mahmood Mamdani
Prospect Top 50 Thinker of 2021
British Academy Book Prize Finalist
PROSE Award Finalist
"Provocative, elegantly written."
--Fara Dabhoiwala, New York Review of Books
"Demonstrates how a broad rethinking of political issues becomes possible when Western ideals and practices are examined from the vantage point of Asia and Africa."
--Pankaj Mishra, New York Review of Books
In case after case around the globe--from Israel to Sudan--the colonial state and the nation-state have been constructed through the politicization of a religious or ethnic majority at the expense of an equally manufactured minority. The model emerged in America, where genocide and internment on reservations created a permanent native minority. In Europe, this template would be used both by the Nazis and the Allies.
Neither Settler nor Native
offers a vision for arresting this process. Mahmood Mamdani points to inherent limitations in the legal solution attempted at Nuremberg. Political violence demands political solutions: not criminal justice but a rethinking of the political community to include victims and perpetrators, bystanders and beneficiaries. Making the radical argument that the nation-state was born of colonialism, he calls on us to delink the nation from the state so as to ensure equal political rights for all who live within its boundaries.
"A deeply learned account of the origins of our modern world...Mamdani rejects the current focus on human rights as the means to bring justice to the victims of this colonial and postcolonial bloodshed. Instead, he calls for a new kind of political imagination...Joining the ranks of Hannah Arendt's
Imperialism
, Frantz Fanon's
The Wretched of the Earth
, and Edward Said's
Orientalism
, this book is destined to become a classic text of postcolonial studies and political theory."
--Moustafa Bayoumi, author of
How Does It Feel to Be a Problem?
"A masterwork of historical comparison and razor-sharp political analysis, with grave lessons about the pitfalls of forgetting, moralizing, or criminalizing this violence. Mamdani also offers a hopeful rejoinder in a revived politics of decolonization."
--Karuna Mantena, Columbia University
"A powerfully original argument, one that supplements political analysis with a map for our political future."
--Faisal Devji, University of Oxford
Year: 2022
Paperback
Read the WRMEA review here!