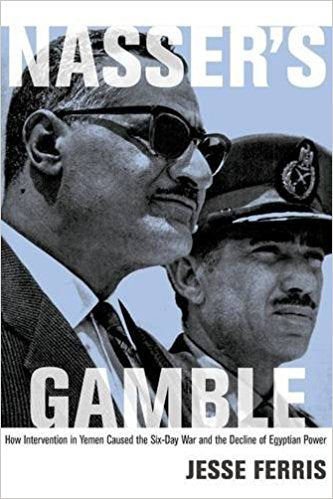 Nasser's Gamble: How Intervention in Yemen Caused the Six-Day War and the Decline of Egyptian Power by Jesse Ferris
Nasser's Gamble draws on declassified documents from six countries and original material in Arabic, German, Hebrew, and Russian to present a new understanding of Egypt's disastrous five-year intervention in Yemen, which Egyptian president Gamal Abdel Nasser later referred to as "my Vietnam." Jesse Ferris argues that Nasser's attempt to export the Egyptian revolution to Yemen played a decisive role in destabilizing Egypt's relations with the Cold War powers, tarnishing its image in the Arab world, ruining its economy, and driving its rulers to instigate the fatal series of missteps that led to war with Israel in 1967.
Viewing the Six Day War as an unintended consequence of the Saudi-Egyptian struggle over Yemen, Ferris demonstrates that the most important Cold War conflict in the Middle East was not the clash between Israel and its neighbors. It was the inter-Arab struggle between monarchies and republics over power and legitimacy. Egypt's defeat in the "Arab Cold War" set the stage for the rise of Saudi Arabia and political Islam.
Bold and provocative, Nasser's Gamble brings to life a critical phase in the modern history of the Middle East. Its compelling analysis of Egypt's fall from power in the 1960s offers new insights into the decline of Arab nationalism, exposing the deep historical roots of the Arab Spring of 2011.
Year: 2015
Paperback