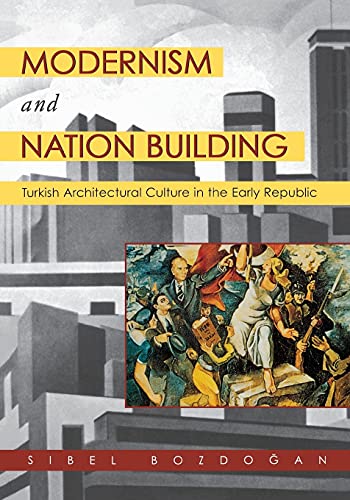 Modernism and Nation Building: Turkish Architectural Culture in the Early Republic by Sibel Bozdogan

With the proclamation of the Turkish republic by Mustafa Kemal Ataturk in 1923, Turkey's political and intellectual elites attempted to forge from the ruins of the Ottoman Empire a thoroughly modern, secular, European nation-state. Among many other public expressions of this bold social experiment, they imported modern architecture as both a visible symbol and an effective instrument of their modernizing agenda. They abandoned the prevailing Ottoman revivalist style and transformed the entire profession of architecture in Turkey according to the aesthetic canons and rationalist doctrines of European modernism.

In this book, the architectural historian Sibel Bozdogan offers a cultural history of modern Turkish architecture and its impact on European modernism from the Young Turk revolution of 1908 to the end of the Kemalist single-party regime in 1950.

Drawing on official propaganda publications, professional architectural journals, and popular magazines of the day, Bozdogan looks at Turkish architectural culture in its broad political, historical, and ideological context. She shows how modern architecture came to be the primary visual expression of the so-called republican revolution--especially in the case of representative public buildings and in the idealized form of the modern house. She also illustrates Turkish architects' efforts to legitimize modern forms on rational, scientific grounds and to "nationalize" them by showing their compatibility with Turkish building traditions.

After Ataturk's death in 1938, the initial revolutionary spirit in Turkish architectural culture gave way to nationalist trends in German and Italian architecture and to the inspiration of Central Asian and pre-Islamic Turkish monuments. The resulting departure from the distinct modernist aesthetic of the early 1930s toward a more classicized and monumental architecture representative of state power brought this heroic era of modern Turkish history to a close. Today, when Turkey's project of modernity is being critically reevaluated from many perspectives, this comprehensive survey of Kemalism's architectural legacy is timely and provocative.
Year: 2002
Paperback
Condition: Very Good