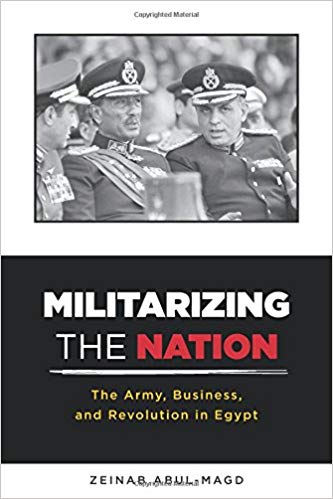 Militarizing the Nation: The Army, Business, and Revolution in Egypt by Zeinab Abul-Magd
Egypt's army portrays itself as a faithful guardian "saving the nation." Yet saving the nation has meant militarizing it. Zeinab Abul-Magd examines both the visible and often invisible efforts by Egypt's semi-autonomous military to hegemonize the country's politics, economy, and society over the past six decades. The Egyptian army has adapted to and benefited from crucial moments of change. It weathered the transition to socialism in the 1960s, market consumerism in the 1980s, and neoliberalism from the 1990s onward, all while enhancing its political supremacy and expanding a mammoth business empire. Most recently, the military has fought back two popular uprisings, retained full power in the wake of the Arab Spring, and increased its wealth.

While adjusting to these shifts, military officers have successfully transformed urban milieus into ever-expanding military camps. These spaces now host a permanent armed presence that exercises continuous surveillance over everyday life. Egypt's military business enterprises have tapped into the consumer habits of the rich and poor alike, reaping unaccountable profits and optimizing social command. Using both a political economy approach and a Foucauldian perspective, Militarizing the Nation traces the genealogy of the Egyptian military for those eager to know how such a controversial power gains and maintains control.
Year: 2018
Paperback