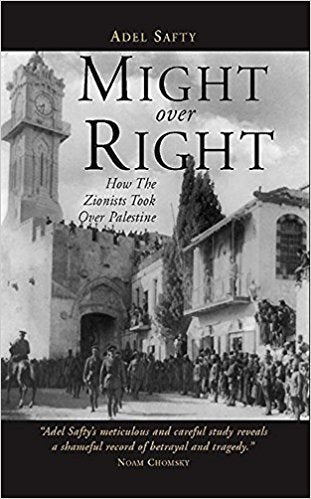 Might Over Right: How the Zionists Took Over Palestine by Adel Safty
Might Over Right provides a critical account of one of the most remarkable stories in the 20th century's history of international relations – the history of how, in the relatively short time of 30 years, Zionist leaders managed, with the help of Western (mainly British) supporters, to wrestle a country away from its inhabitants, and in the process to profoundly affect the course of international relations and fundamentally transform the history of the Middle East.

Extensively documented, relying mostly on Zionist, British and Israeli sources, and sweeping in scope, the book makes a crucial contribution to the growing effort to challenge the simplistic and reductive accounts in media and scholarship in the West – one of the principal causes of the perpetuation of the conflict. 

Might Over Right goes beyond the Israeli new historians' accounts that focus on specific aspects of the Zionist–Palestinian confrontation. It also goes beyond the establishment of the state of Israel in 1948 to critically analyze the latest dimensions of the Arab–Israeli conflict, and of the continued Israeli–Palestinian confrontation.
Year: 2012
Hardcover