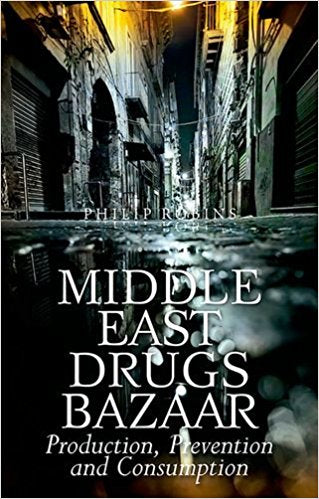 Middle East Drugs Bazaar: Production, Prevention and Consumption
The Middle East is intimately involved in the is- sue of illegal drugs which affects all the countries of the region: as a cultivator (Morocco, Lebanon); transit hub (Iran, Turkey); and consumer (Egypt). Yet, until now, there has been precious little research on any of these issues, especially in a comparative manner. This book, the first in any language to focus on illicit drugs in the Middle East, will surprise many readers. The consumption of qat in Yemen or cultivation of cannabis in Lebanon's Bekaa Valley is hardly news, but the extent of amphetamine use in Saudi Arabia and the Gulf States or the international role of Israeli narcotics manufactures and traffickers is less well known.

Based on extensive research and interaction with law enforcement agencies, the public and private health sectors, drug-centric NGOs, and recovering drug abusers, Middle East Drugs Bazaar focuses on ten of the leading countries of the region, straddling the Arab World, Israel, Iran and Turkey. It tells the story of drug-related experiences where they most impinge on the peoples and societies of the region.

In addition to the social role of illegal drugs, their political and economic impact are also covered, including: war and drugs in Iraq; drugs and development in Yemen; and youth policy and drugs in Saudi Arabia.
Year: 2016
Paperback