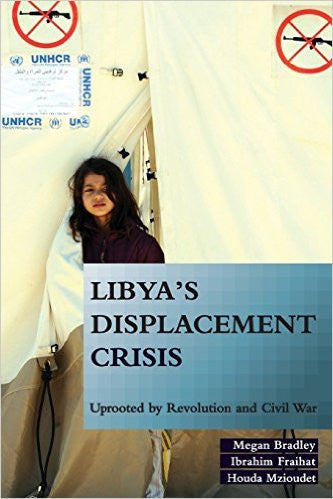 Libya's Displacement Crisis: Uprooted by Revolution and Civil War by Megan Bradley, Ibrahim Fraihat, Houda Mzioudet
Libya faces a bleak humanitarian crisis, the result of the country's descent into civil war in the summer of 2014 following the 2011 revolution.
Hundreds of thousands of Libyan citizens are uprooted within the country and many more are sheltering in neighboring states, particularly Tunisia. Drawing on in-depth interviews with policymakers, practitioners, and displaced Libyans both inside and outside the country, Megan Bradley, Ibrahim Fraihat, and Houda Mzioudet present a brief, yet thoroughly illuminating assessment of the political, socioeconomic, security, humanitarian, and human rights implications of the continued displacement of Libyan citizens within and outside their country.
Assessing the complex dimensions and consequences of the situation,
Libya's Displacement Crisis
lays the groundwork for what comes next. Acknowledging that the resolution of this crisis hinges on a negotiated end to the Libyan civil war, the authors present ideas to improve assistance strategies and to support durable solutions for displaced Libyans with implications for refugee crises in other parts of the world, including Syria and Iraq.