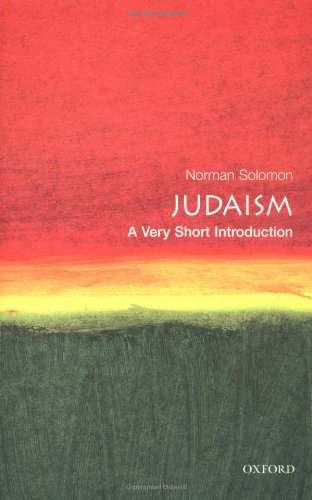 Judaism: A Very Short Introduction by Norman Soloman
Normon Solomon's succinct book is an ideal introduction to Judaism as a religion and way of life. Demonstrating the diverse nature and ethnic origin of Jewish people, Solomon explores how the religion has developed in the 2,000 years since the days of the Bible.
This Very Short Introduction starts by outlining the basics of practical Judaism, including: festivals, prayers, customs, and various sects - and goes on to consider how Judaism has responded to, and dealt with, a number of key issues and debates, including the impact of the Holocaust and the establishment of the State of Israel. In this new edition, Solomon considers issues of contemporary Judaism in the 21st century, incorporating new material on the relationship between the Muslim faith and Judaism, the rise of Zohar and Kabala, and considers how the faith deals with issues such as homosexuality and gay marriage.
Year: 2014
Paperback