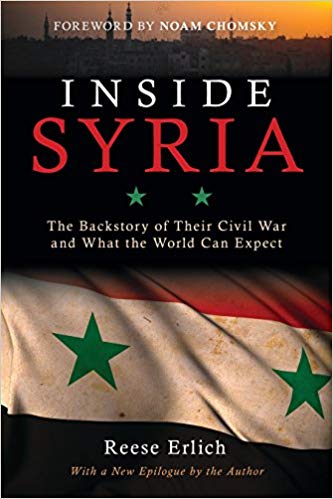 Inside Syria: The Backstory of Their Civil War and What the World Can Expect
Based on firsthand reporting from Syria and throughout the Middle East, Inside Syria unravels the complex dynamics underlying the Syrian Civil War. Through vivid, on-the-ground accounts and interviews with rebel leaders, regime supporters, and Syrian president Bashar al-Assad himself, veteran journalist Reese Erlich gives the reader a better understanding of this momentous power struggle and why it matters.

Through his many contacts inside Syria, the author reveals who is supporting Assad and why, describes the agendas of the rebel factions, and depicts in stark terms the dire plight of many ordinary Syrian people caught in the cross fire. Erlich explains how, after colonization by the British and the French and later becoming a focal point of political intrigue by numerous international powers, the region became increasingly volatile and dangerous. He also provides insights into both the past and the present roles of the Kurds, the continuing influence of Iran, and the policies of American administrations that seem interested only in protecting US regional interests, even at the expense of innocent Syrian civilians.
    
Disturbing, compelling, and enlightening, this timely book--now with a new epilogue with the latest information-- shows not only what is happening inside Syria but why it is so important for the Middle East, the United States, and the world.
Year: 2016
Paperback